31st March 2006
Admittedly, it felt darn good afterwards

26th March 2006
Glompy madness

21st March 2006
Damn all you pisceans...I'll let you two win this once. Grar.
19th March 2006
Heineken Green Room
Phoar! Beware the boob fest !!
16th March 2006
You guys enjoy your Transformers...I enjoy My Little Pony. So there!
13th March 2006
I was torn between being flattered and completely insulted...

now, despite my huge ego, I am not that shameless as to imply I am great-looking or whatever...just drawing what happened. I am still quite stupefied by what he said.
10th March 2006
Bzzt
9th March 2006
CBD Chicks...
7th March 2006
Meh. Just testing out a new drawing technique and being 'expressive'
..and yes, my cherub is an Indian. No more little 'white' babies flying around my blog..more local blood please!
6th March 2006
Did I ever tell you how tasty my foot is?
5th March 2006
Which reminds me to go double-check my own mother's birthday..
yes, I am just
that
horrid with birthdays
5th March 2006
Alittle girlie update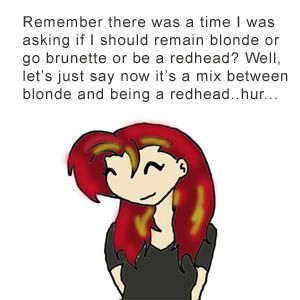 4th March 2006
AS Jas says, "We only do this for the friends we love OKAY?!"

Altogether now...awwww...
EDIT: As Jess kindly corrected me, it was Liy who suggested that they lie down with me. Sorry Liy, was too busy covering my face, blushing and giggling like an embarrassed cow